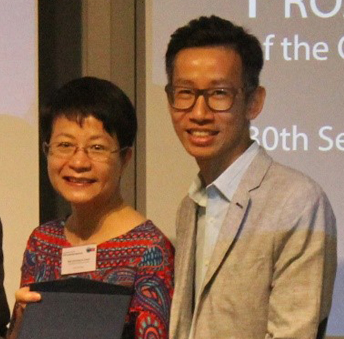 Save & Earn @ VM – A Family Saving Model for Poverty Alleviation
Mr. Matthew Lee, Founder and Business Director, Goods Co-Share Co. Ltd
Ms. Deanie Chiu, The Women's Foundation Limited
Goods Co-Share Co. Ltd is a non-profit social enterprise focusing on poverty alleviation through providing quality, affordable household necessities to less-advantaged families through direct group purchase and sharing, thus enhancing social capital and advocacy for an affordable market.
Growing up in a grass-roots family, Matthew understands grassroots' concerns over  the rising price of commodities. Over the past 15 years of working with grass-roots families as a social worker, Matthew has witnessed the decreasing affordability of basic commodities "chai, mi, you, yan, jiang, cu, cha" (firewood, rice, oil, salt, sauce, vinegarand tea, in Mandarin), as small grocery stalls were slowly replaced by chain supermarkets. By sourcing directly from suppliers, Goods Co-Share is able to provide affordable daily necessities to less-privileged families. Matthew's mission does not stop here: through providing the consumer with alternative ways of sourcing necessities, Matthew envisioned enhancing their social capital and developing an affordable market.
His project seeks to benefit 2,000 families (8,000 beneficiaries, especially women, the elderly and new arrivals) who are living below the poverty line. All of the target families are from deprived areas, for example Sham Shui Po and Kwai Chung. Since mid-2018, 3 Vending Machines have been installed in the underprivileged areas.
*To know more about Goods Co-Share Co. Ltd, please see Matthew's Interview on SIE
【自己社區自己救】的實踐

【自己社區自己救】的實踐 在一遍陰霾的大環境下,謝謝有線《小事大意義》再次報導,為社會帶來一點正能量。 只要改變一點消費慣性,原本被連鎖店賺去的利潤、被地產租金廣告所消耗的成本,就可以重新投入社區。讓街坊都能參與其中,討論及實踐如何改善社區、扶助弱小、甚至更多的可能。

由良由集貨 Goods Co-Share 發佈於 2019年8月13日 星期二