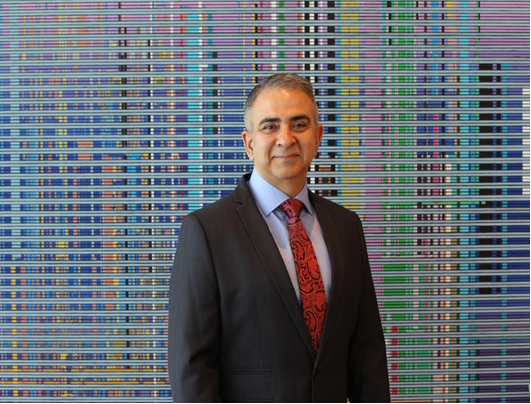 Integrated Brilliant Education Centre – Sham Shui Po
Mr. Manoj Dhar, CEO and co-founder, Integrated Brilliant Education Trust
The Integrated Brilliant Education Centre is committed to educating and empowering students from underprivileged ethnic minority groups. At IBET, every child, irrespective of skin colour, should have equal access to quality education, opportunities to achieve their potential and prospects for a bright future. By providing high-quality educational support to assist students' learning in local classrooms, IBET equips and encourages ethnic minority students to pursue higher studies in local schools and tertiary institutions in Hong Kong. Manoj co-founded IBET envisioning empowering children with practical life and language skills that support their integration into Hong Kong's social fabric.
The IBET Sham Shui Po Centre has continued to blossom in providing educational relief to Hong Kong's marginalised non-Chinese speaking children, with special emphasis on Chinese language learning. Underprivileged Non-Chinese speaking Students across a wide spectrum of education including Kindergarten, Primary and Secondary classes are benefitting from the educational support being offered from Monday to Saturday. Over 200 children have benefited from the educational support to date.
The centre has built a reputation for being a trustworthy and reliable quality education provider within the economically challenged, non-Chinese speaking community residing in the Sham Shui Po catchment area. Parents are experiencing tangible improvements in their children's academic performance at school.
At the moment, the centre is holding classes for all age groups from 3 years to 15 years. A literacy programme for women was trialled early in 2019 with positive results. As part of their Social Impact Programme, IBEC students have enjoyed several educational visits, for example visits to the MTR Safety Zone, Fire Station and Endangered Species Resources Centre, etc. Their endeavours to encourage active and healthy lifestyles amongst their students have resulted in collaboration with the Hong Kong Rugby Union and regular rugby training sessions extending over 8 Sundays were organised. The students were also provided with the rare opportunity to visit and enjoy the Hong Kong Rugby 7s.
To know more about the IBET Sham Shui Po Centre, please visit IBET website.