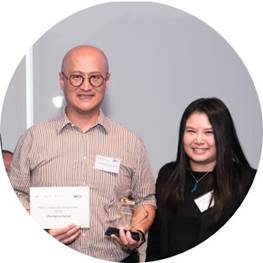 "Multi-sensory Reading Experience through Image, Sound and Touch"
Mr. James Chong Kwok-tung, Founder, Rolling Books Limited
(Collaborating with our 2018 alumni Dr. Dawning Leung, Audio Description Association (Hong Kong))
Reading accessibility pertains to more than just the ability to read words. It is particularly more essential that picture books carry a vast diversity of messages as visual literacy. "Multi-sensory Reading Experience through Image, Sound and Touch" aims to increase the accessibility of picture books for children with special educational needs (SEN), especially the visually-impaired, through providing Audio Description sound clips and publishing multi-sensory picture books with Audio Descriptions, braille, and tactile paper sculpture.
Collaborating with Audio Description Association (Hong Kong), Rolling Books aims to challenge the publishing industry to create more inclusive picture books with more accessible features.
Visit here for more information of Rolling Book Limited.